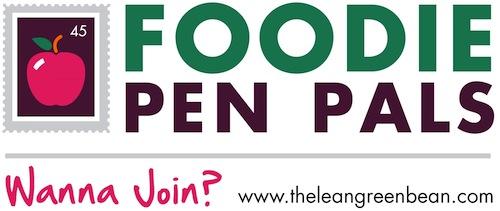 Hi divas! It's the last day of the month and I decided to try something new. During the month of March, I participated in the March
Foodie Pen Pal
program at
The Lean Green Bean
.
Basically, you will go to the blog and sign up for a foodie pen pal by the 5th of each month. You are then paired with a pen pal that you will shop for. You can spend $15 of various foods to send to you pen pal then you will write a blog post about what you received on the last day of the month.
So today, I am sharing about what I received. I was paired with Hillary from El Paso, TX and clarified that I was trying to eat as clean and natural as possible over the Lenten season. When the box arrived and I opened it, this is what I received.
1 can of jalepenos. She lives in El Paso, the Mexican food capital of the world (supposedly)! She said she usually grills chicken or beef, cut them into bite size pieces and serve it with cut up jalapeno, avacado and muenster cheese. I'm not usually a big jalepeno person but this sounds pretty yummy.
Salsa. It's from a great restaurant in Albuquerque. I used this in my taco casserole which I will be sharing this week for Recipe Thursday so stay tuned!
Pine nuts. They are so wonderful in salads, pasta…anything really. I love these on salads so I am glad she sent them.
Coconut oil. She said that when she reads about clean eating, that's what I believe tons of people use. I plan on making use of this for all kinds of things (both food related and un food related).
Granola bars. These are raw bars that had been recommended by a friend. I have to say they were very yummy and were eaten rather quickly!
This was so much fun and I can't wait to sign up for next month and see what new and interesting food items I get!